Buying fresh cupcakes at a bakery is always such a treat. But we have a secret. You don't actually have to go to a bakery in order to have the best cupcake ever. These 18 perfect cupcake recipes are super easy to make at home and taste way better than anything you'd get in the bakery. Plus, they cost way less! Sounds like you should go preheat your oven and start baking!
Strawberry Crunch Cupcakes
Strawberry crunch, but bite-sized! These Strawberry crunch cupcakes are such a cute dessert to make for Spring parties, and they pack a huge amount of flavor for something so small. The strawberry shortcake crumb on top is the most delicious garnish.
Go to the recipe: Strawberry crunch cupcake
Biscoff Cupcakes
If you love Biscoff, you should definitely try this Biscoff Cupcakes recipe! Imagine moist cupcakes with caramel, spicy flavors, Biscoff butter filling, and the most delicious Biscoff frosting. Making the Biscoff cupcakes with Biscoff buttercream is not difficult but super easy!
Go to the recipe: Biscoff Cupcakes
Nutella Cupcakes
Cute and creamy Nutella cupcakes have the most amazing chocolate hazelnut taste and soft texture. A luxurious Nutella frosting - chocolate pastry cream-based - elevates them to a more sophisticated style, and what's more, a surprise awaits you as you take the first bite, a gooey Nutella filling. No one will be able to get enough.
Go to the recipe: Nutella cupcakes
Pink Cupcakes
Pretty as a picture. Pink cupcakes for a baby girl shower are surely a classic and will create a photo-worthy spread. My easy cupcake recipe shows you exactly what to do, and there are no complex ingredients or kitchen equipment. Perfect for beginner bakers.
Go to the recipe: Pink cupcakes
Cinnamon Cupcakes
These moist Cinnamon Cupcakes with a swirl of bold cream cheese frosting offer a delightful blend of warm and tangy flavors. Simple to make, this dessert is a versatile and delicious treat that can be enjoyed any time of the year.
Go to the recipe: Cinnamon Cupcakes
Strawberry-filled cupcakes
A surprise strawberry filling lends an amazing, naturally fruity flavor to these moist and fluffy cupcakes. And the Strawberry-filled cupcakes recipe comes together really easily with no special equipment or ingredients. If you're looking for a super simple Spring dessert, try this. Even if you are a total baking beginner, you'll nail it.
Go to the recipe: Strawberry-filled cupcakes
Apple Pie Cupcakes
Imagine the taste of warm Fall spices, apple pie filling, and silky whipped mascarpone frosting, all in a cupcake! A brown sugar cupcake base enhances the flavors and I think this Fall cupcake recipe works really well at Thanksgiving.
Go to the recipe: Apple Pie Cupcakes
Chocolate Caramel Cupcakes
Some might be worried that chocolate caramel cupcakes would be too sweet, but this recipe is really well-balanced. Crazy moist chocolate cupcakes are filled with homemade caramel sauce and frosted with a light caramel whipped mascarpone.
Go to the recipe: Chocolate caramel cupcakes
Tiramisu Cupcakes
The classic Italian dessert gets a makeover with Tiramisu Cupcakes. It's like a mini tiramisu! You won't believe how rich and silky the mascarpone frosting is, and furthermore, the cocoa powder makes it even better.
Go to the recipe: Tiramisu Cupcakes
Lemon Poppyseed Cupcakes
Poppy seeds and Lemon are an excellent cupcake flavor combination. These fluffy cupcakes have incredible aromatic lemon flavor and are filled with a 4 ingredients homemade lemon curd, plus packed with poppy seeds. Finally, an easily whipped mascarpone frosting completes the perfect sweet food.
Go to the recipe: Lemon poppyseed cupcakes
4th of July Cupcakes
These 4th of July Cupcakes are a delicious way to show off your American spirit! Decorated in patriotic red, white, and blue to match the American flag, this festive and easy-to-make dessert will be the star of your Independence Day gathering and a wonderful dessert for Memorial Day too!
Go to the recipe: 4th of July Cupcakes
Strawberry Cupcake
These berry-delicious homemade strawberry cupcakes aren't just any old ordinary cupcakes! They feature super moist and fluffy aromatic vanilla cake crowned with luscious fresh strawberry cream cheese frosting!
Go to the recipe: Strawberry Cupcake
Lemon Drizzle Cupcakes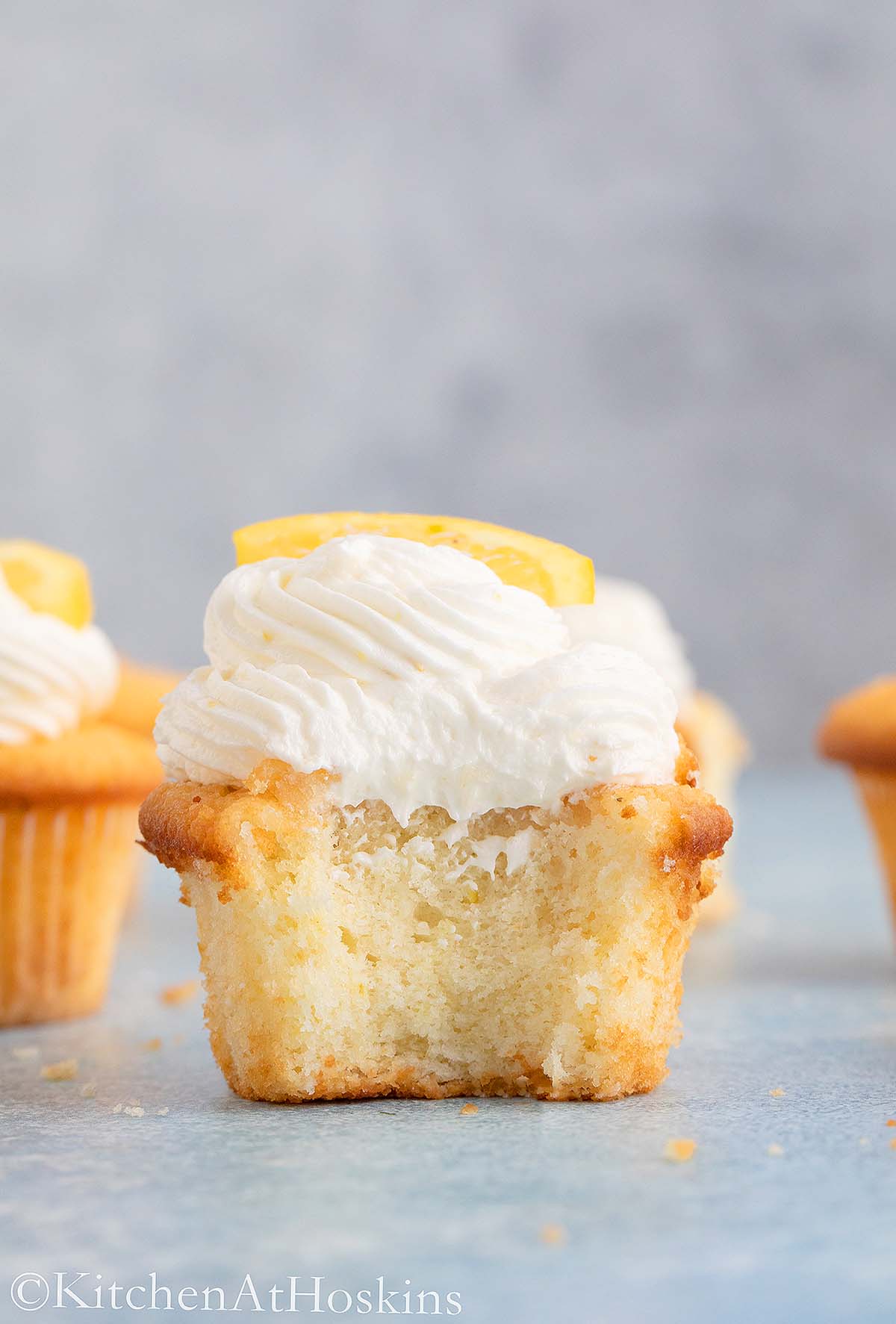 These Lemon Drizzle Cupcakes are super soft, fluffy, and topped with an amazing lemon buttercream. This small batch recipe of 6 cupcakes has the perfect balance of sweetness and tanginess!
Go to the recipe: Lemon Drizzle Cupcakes
Keto Chocolate Cupcakes
Rich, naturally low-carb, and gluten-free Keto Chocolate Cupcakes with Cream Cheese Frosting are about to become your new favorite dessert recipe. These 30-minute, sugar-free treats are made with chocolate chips and almond flour plus a secret ingredient to give them a sweet maple twist.
Go to the recipe: Keto Chocolate Cupcakes
Battenberg Cupcakes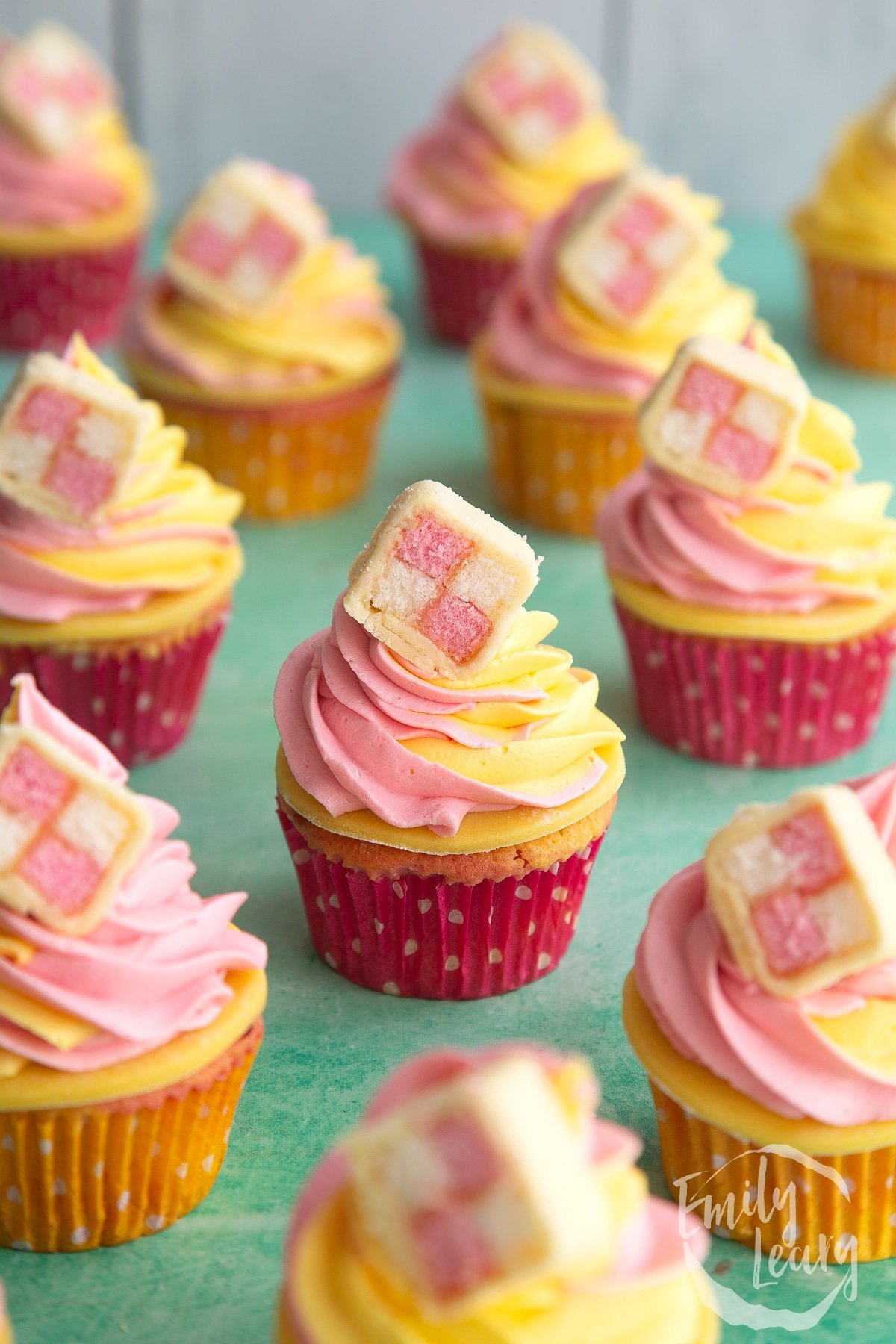 These Battenberg cupcakes boast almond and vanilla sponge, raspberry jam, marzipan, and smooth, two-tone almond buttercream.
Go to the recipe: Battenberg Cupcakes
Chocolate Walnut Cupcakes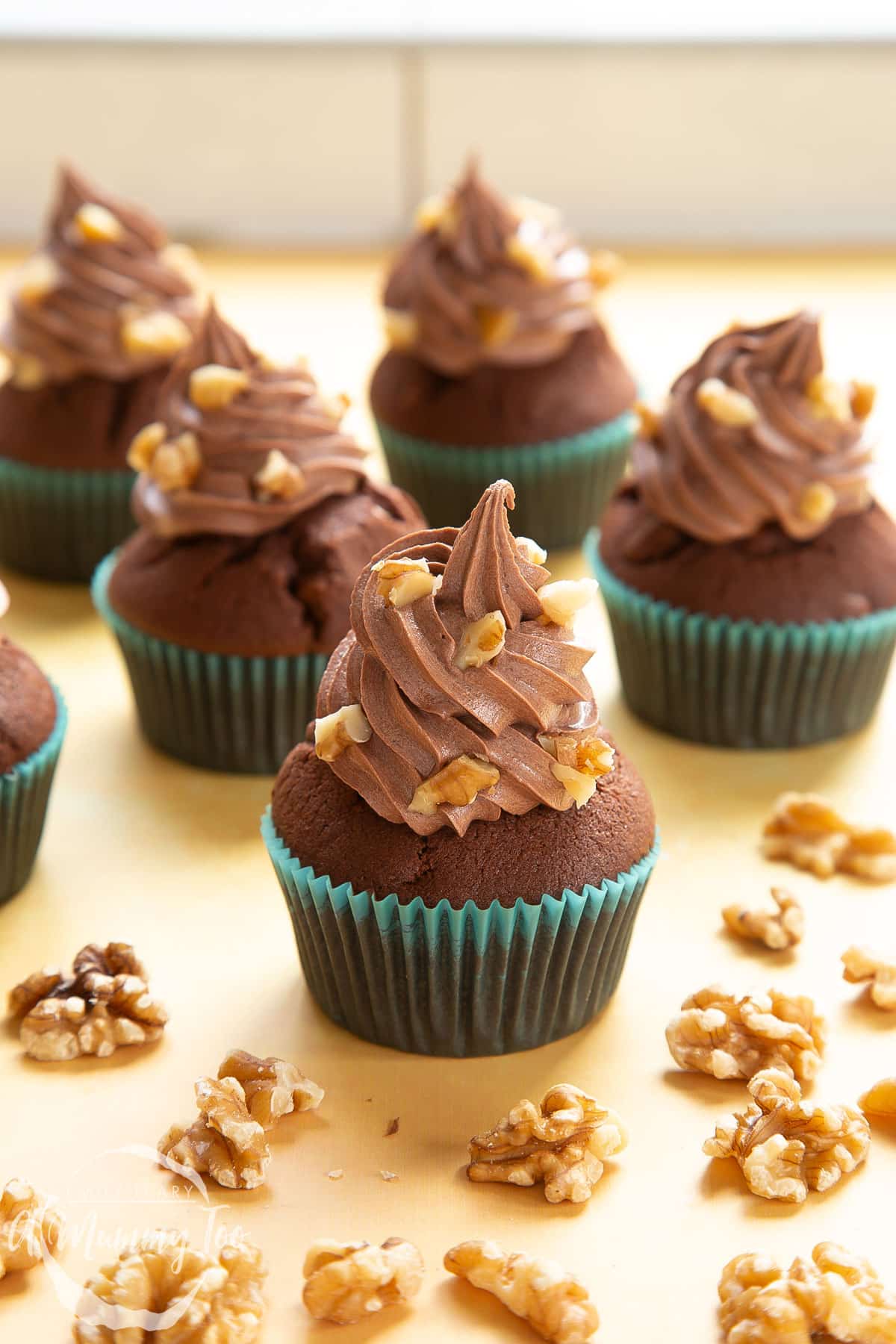 Fancy some delicious chocolate walnut cupcakes? Try these! They have a deeply chocolatey yet beautifully light sponge, flecked with creamy, sweet walnut pieces and topped with a perfectly smooth chocolate frosting.
Go to the recipe: Chocolate Walnut Cupcakes
Chocolate Espresso Cupcakes
Over the top rich and easy to make, Perfect Chocolate Espresso Cupcakes (aka mocha cupcakes) are for any occasion. Tender chocolate cake is infused with espresso or strong coffee and topped with a rich and chocolatey easy buttercream. This recipe is vegetarian and easily dairy free.
Go to the recipe: Chocolate Espresso Cupcakes
Coconut Cupcakes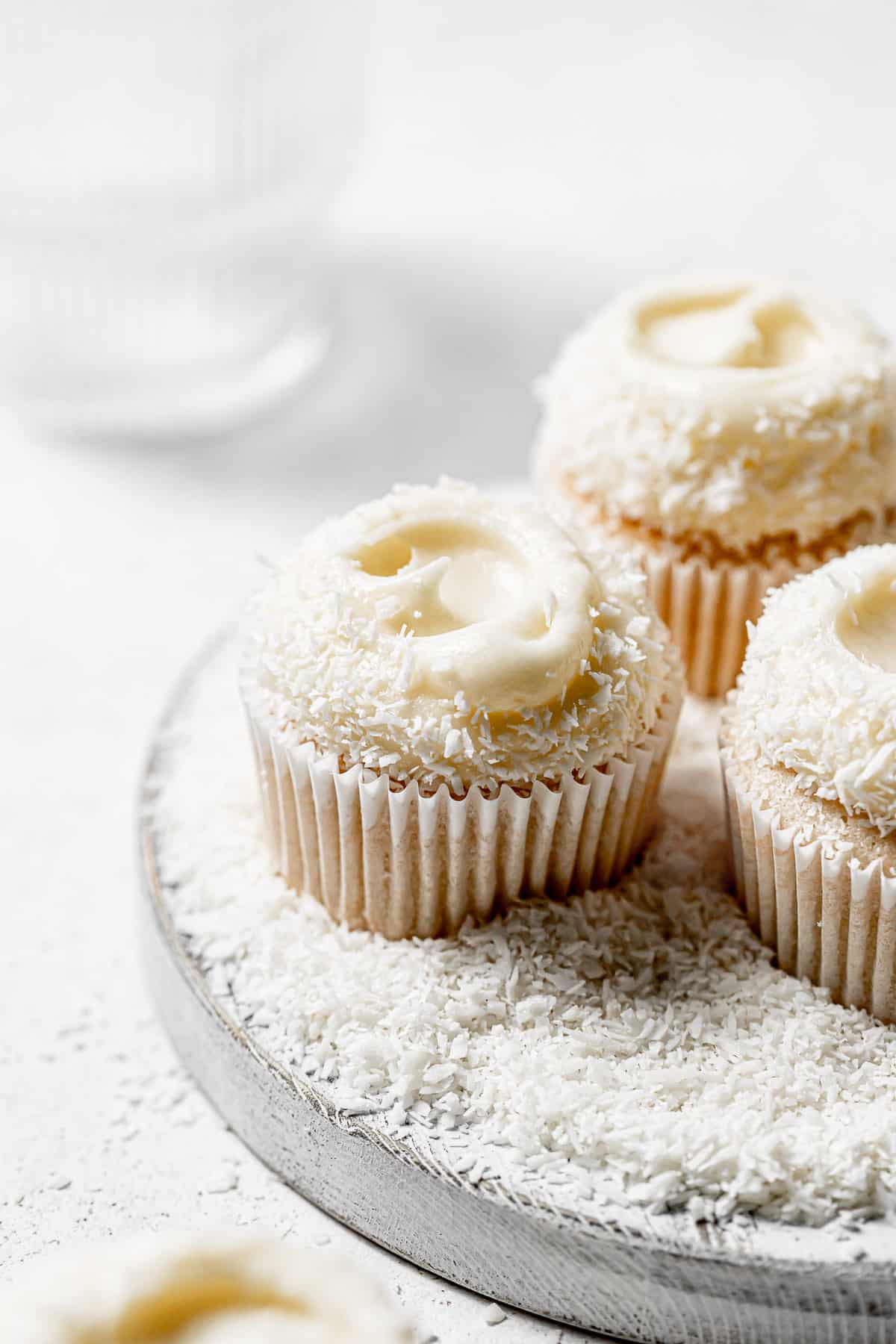 Light & moist coconut cupcakes with a dreamy coconut cream cheese frosting are just what you need to celebrate springtime. Bake up a dozen of these little white cakes packed with coconut flavor for Easter or any spring afternoon!
Go to the recipe: Coconut Cupcakes
More From Spatula Desserts
The best fall desserts are full of warm fall flavors, spiced undertones, and seasonal fruits that bring coziness into the season. Whether it's pumpkin, pecans, apple, or cinnamon spice, find your favorite Fall dessert recipe on this list!
Go to the recipes: Fall Desserts
Types of Cheesecake
When it comes to different types of cheesecake, you have more options than you might think. And if you love this rich and tangy treat, then you've come to the right place. I've compiled a list of the best cheesecake varieties that are all reliable recipes you can make at home.
Go to the recipes: Types of Cheesecake
Best Mini Desserts
These are the best Mini Desserts to bake when size matters. Whether you're looking for petit fours to serve after dinner or putting together a dessert table of bite-sized treats, perhaps looking for easy bite-size desserts for parties, we have all the mini dessert recipes you need.
Go to the recipes: Mini Desserts
This article was first published as Best Cupcake Recipes at Spatula Desserts.